Local Promoter Talks About El Ritual and La Phoenikera's "Rocanrol" Scene
This weekend there's a rock en español event in La Phoenikera that sounds like it's going to be pretty awesome. We spoke with Osvaldo Franko, director and producer of FrekuenciAlterna, the organization that put together the event, so he could tell us what it's about and also give us his opinion about La Phoenikera's rock en español scene.
La Phoenikera.com: Hi Franko, tell us about FrekuenciAlterna.
Osvaldo Franko: FrekuenciAlterna is an internet based radio and TV station that is modern, free, independent and critical. Its purpose is to provide resources to the community, cultural resources, health resources; things that will allow them to see a different world, a different reality in which Latinos are smart, powerful, united and where together we can do a lot of good things. We are the first station of its kind that is registered with the Federal Communications Commission. Right now we have 15 productions that include El Wateke, Gente Alegre, Como Funciona el Dinero, Mujeres Al Aire, Radio TV Infantil and De Tequila Onda.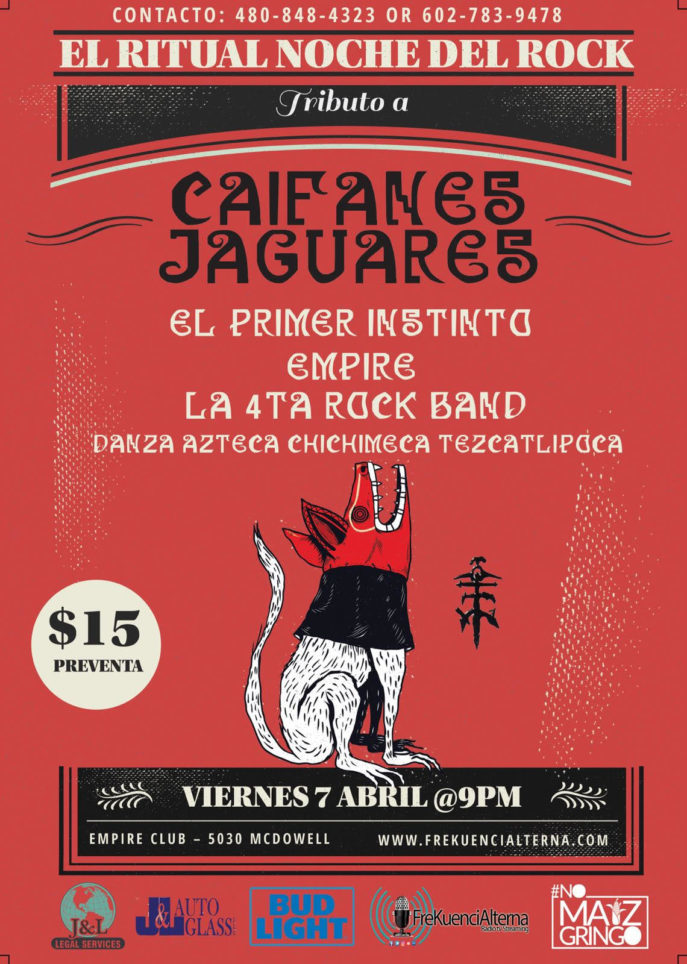 LP: Now, what is El Ritual about, the event FrekuenciAlterna is organizing?
OF: El Ritual is a series of concerts that we are planning to organize, where we'll mix Spanish rock and culture. Why rock? Because it's the only music genre that has grown within political systems. It's the only genre that doesn't leave with trends. It's always critical and it's constantly rebelling. That's why rock never goes out of style. It's a life style, unlike other genres. In the series of concerts we are going to showcase rock bands here in the Valley because at some point, this was one of the most important rock scenes this side of the border. For some reason, right now Mexican regional music is the economic trend but it's not the important cultural trend.
So El Ritual, in its first edition this April 7th, will present a tribute to Jaguares and Caifanes with L.A. band El Primer Instinto. We wanted to do this tribute because we know that Jaguares and Caifanes is one of Mexico's most important rock bands. Obviously there will be people who will say there's Café Tacva, Maldita Vecindad, La Lupita, La Castañeda, Cuca. We know, but the band that spread, established itself as a leader and is still liked is Jaguares and Caifanes.
With the band's philosophy in mind, we'll have a show that will have Aztec performers, people who dedicate their lives to interpreting prehispanic dances as a true ritual, that's why the event is called El Ritual. We will also have an Argentinian performer, his name is Nathan Jude, who will be performing songs from Argentina's rock scene, as well as some of his own. Lastly, we'll have Santander, a local artist who will be sculpting live during the show and we will raffle off his piece. The raffle will benefit the #NoMaízGringo campaign, an important social movement that is trying to grow the consumption of Mexican corn instead of having Mexico purchase corn from the United States.
LP: Do you already have a list of artists that you're planning to bring for this series of concerts?
OF: We already have a list, however, I'm going to keep it for myself for now because we might bring really great surprises for our next show. We are planning to host a concert every two or three months.
LP: We've seen that there's a trend of bringing tribute bands to La Phoenikera. Why do you think there's a focus on that instead of bringing new bands?
OF: Number one, the people who are currently organizing tributes do it because they are not trusting local rock bands and those that already have an established audience. We are organizing a tribute as a launch to the El Ritual movement, which allows us to set a trend in terms of the type of tribute we are going to do. But it is a reality that we have to start bringing consolidated bands and that is one our goals for El Ritual's concerts.
LP: Do you think there is a lack of support for new things on the audience side?
OF: Look, the audience has always liked rock. What needs to happen is that promoters have to do serious publicity. For example, this weekend we went to see Jarabe de Palo. We found out about it two weeks ago and they'd been promoting for three months. What I'm getting at is that Jarabe de Palo is a huge name and there were very few people at the Phoenix concert, when a week before at the Vive Latino, thousands of people were singing with them. So what happens is that promoters bring them but they don't publicize as well as they should. At FrekuenciAlterna, we are campaign creators and that has given us great results.
LP: What do you think needs to happen in La Phoenikera so there's more influx of new bands?
OF: I don't think anything needs to happen, it's already happening. There is a new medium like FrekuenciAlterna that is saying to people "hey, remember? You used to listen to this, you liked it. Support it!" I don't expect for anything to happen, we are making it happen with our project. We are the only outlet that has a Spanish show dedicated to rock en español, which is El Baul del Chini.
LP: Which rock en español bands from La Phoenikera should we be paying attention to?
OF: I would say right now it's La 4ta, Enparoxismo and Rastas Band.
LP: Is there anything you'd like to add?
OF: First of all, thank you to LaPhoenikera.com for the time and space to talk about this. I would like to invite people to follow outlets like FrekuenciAlterna. We have a social project and not just a commercial need. I invite people to also support music movements, it doesn't matter if it's cumbia, salsa, bachata or rock. And of course, we hope you can come to El Ritual on April 7th. We've prepared an extraordinary show. From the moment you go in you'll notice the difference between a regular event and ours.
Details:
WHAT: El Ritual: Tribute to Jaguares and Caifanes
WHEN: Friday, April 7th, 9 p.m.
WHERE: Empire Club Arizona, 5030 W. McDowell Rd. Ste. 29-30 Phoenix
HOW MUCH: $15
NOTE: This event is 21+