20 Spots For Shopping Local This Christmas
This Christmas/Hanukkah/Kuanzaa season (and the ones that I'm forgetting), Phoenikerxs have the opportunity to avoid the fast fashion producers and multinational super stores and support local business and the local economy with their shopping. Sometimes though, we don't know where to find those local spots that offer really cool gift options. That's why we've put together a list of awesome local shops and markets in La Phoenikera where you can do your Christmas shopping!
UNO! Made Art Boutique
Made is in the heart of Roosevelt Row and it's a cute little store where you can find jewelry, pottery, books, magazines, cards and other super unique gifts made by more than 100 artists.
WHERE: 922 N. 5th Street, Phoenix
DOS! Bunky Boutique
This shop has clothing and accessories by recognized brands as well as independent lines. They also sell cool stuff for your house that's pretty unique. It's located next to Giant Coffee so if you need your fix, a cold brew is a few steps away.
WHERE: 1437 N. 1st Street Suite 103, Phoenix
TRES! Frances Boutique
Located in midtown La Phoenikera, Frances Boutique has been named one of the best local shops for finding great holiday gifts. They carry clothing, accessories, home décor shenanigans and cool gifts. Great place to find Phoenix pride items.
WHERE: 10 W. Camelback Road, Phoenix
CUATRO! Local Nomad Boutique
This shop is also in midtown and it has somewhat of a minimalist feel. It's a place where you can get home decorations, jewelry, somewhat funky clothes, accessories and other neat gifts for those who like simple, quirky and distinctive.
WHERE: 100 E. Camelback Road Suite 168, Phoenix
CINCO! Manor PHX
Manor is a great alternative for finding higher end apparel, shoes and accessories brands. They carry names like Adidas, Herschel Supply, Ray Ban, People Footwear and a bunch of others for men and women.
WHERE: 100 E. Camelback Road Suite 102, Phoenix
SEIS! Antique Sugar
Go to Antique Sugar if you want to find something for those friends or family members who have a knack for the vintage. Antique stores are always great for finding clothing and accessories that you can't find anywhere else, because hello, they don't make it anymore! It's also great for our local economy and the environment since you're not buying something new.
WHERE: 801 N. 2nd Street Suite 104, Phoenix
SIETE! 11th Monk3y Industries
This place is home to some kick ass wood and metal artists who are able to make really cool stuff if you want to give something custom made. It's also a great place to find shirts and hats of unique brands and great for printing items with custom designs.
WHERE: 1022 N. W. Grand Avenue, Phoenix
OCHO! Palabras Bilingual Bookstore
Palabras is the only bilingual book store in La Phoenikera and you can find a great selection of books in Spanish. Plus, the owner makes the best Lotería earrings; you can pick two of the same card or mismatch.
WHERE: 1738 E. McDowell Road, Phoenix
NUEVE! Changing Hands Bookstore
This is another option for finding books locally and they have new and used books! Changing Hands is one of the metro area's quintessential book stores. It was started by Phoenikerxs back in the 70s in Tempe and then opened a second location in La Phoenikera in 2014.
DIEZ! Mucho Más Art Studio
This place is a collaborative spot for Phoenikera star blogger Cathy Cano-Murillo the Crafty Chica, her husband Patrick Murillo and Emily Costello. Everything in there is hand-made by the three artists and they have all sorts of great gift items from jewelry to prints to pottery and home décor.
WHERE: 1738 E. McDowell Road, Phoenix
ONCE! Michael Lanier's Pueblo
If you have friends or family who are plant lovers, this is the place to shop for them. It's the coolest plant shop in the Garfield District right next to Gallo Blanco and they have all sorts of earth and water plants. Last time we went we got an awesome succulent that we'd never seen before.
WHERE: 10th Street and Pierce, Phoenix
DOCE! Mi Tienda Latina
If you have friends from places in Latin America other than Mexico and you want to surprise them with a goodie from their home country, this is a grrrrreat stop! They have delicious stuff from Peru, Colombia, Venezuela, El Salvador, Guatemala and others.
WHERE: 1811 N. 24th Street, Phoenix
TRECE! El Mercado de los Cielos
This is a mall within a mall (Desert Sky) with all sorts of Mexican goodness. In there are dulcerías, shoe stores, clothing stores and so many others. Many of the vendors in El Mercado de los Cielos are local so you have multiple opportunities to support local businesses in a single place.
WHERE: 7611 W. Thomas Road, Phoenix
CATORCE! Farmers Markets
There are farmers markets all over La Phoenikera and these are great places to get unique gifts made by locals. Wanna give a plant? They got some; jewelry? You'll find something cool; neat things to decorate your house? you'll see some there too.
WHERE: 721 N. Central Avenue, Phoenix (Find others farmers markets near you here)
QUINCE! "Los Perros"
Los Perros is what la raza calls the Phoenix Park N' Swap and it's a great place to buy toys, real and fake cowboy boots, belts and hats; pots and pans; cobijas; clothing and accessories; Mexican candy; oils from the middle east, you name it. All of it is from local vendors.
Where: 3801 E. Washington Street, Phoenix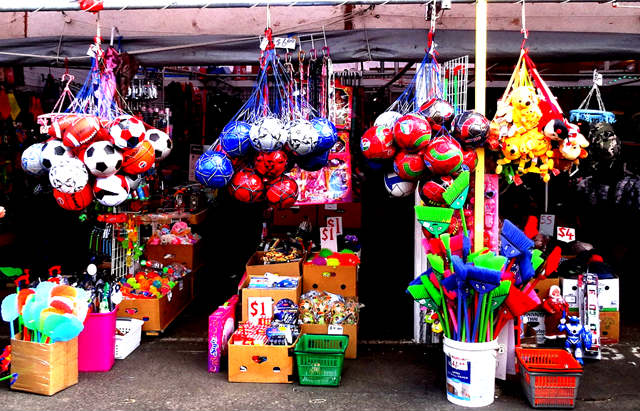 DIECISEIS! Phoenix Flea
This is an outdoor market of 140 vendors who specialize in hand crafted, vintage, fine art, design and more. Most of the vendors are from La Phoenikera and other parts of the state and there are some from California, Colorado, Nevada, New Mexico and Texas.
WHEN: Saturday, November 25, 10 a.m. – 5 p.m.
WHERE: Heritage Square Science Park, 113 N 6th Street, Phoenix
DIECISIETE! Xicana Indígena Mercado

Check out this market hosted by Cihuapactli Collective where you'll find handmade jewelry, fair-trade rebozos, candles, salves and other awesome gifts by Chicana vendors like True Herstory Creations, Chantico, Quetzal Salves, HandmadeTlali, Indígena, Jewelry by Little Women, Val's Creations, Perla Farias Photography, Cihuapactli Collective and Locas.
WHEN: Saturday, December 2, 1 p.m – 5 p.m.
WHERE: The Sagrado Galleria, 6437 S. Central Avenue, Phoenix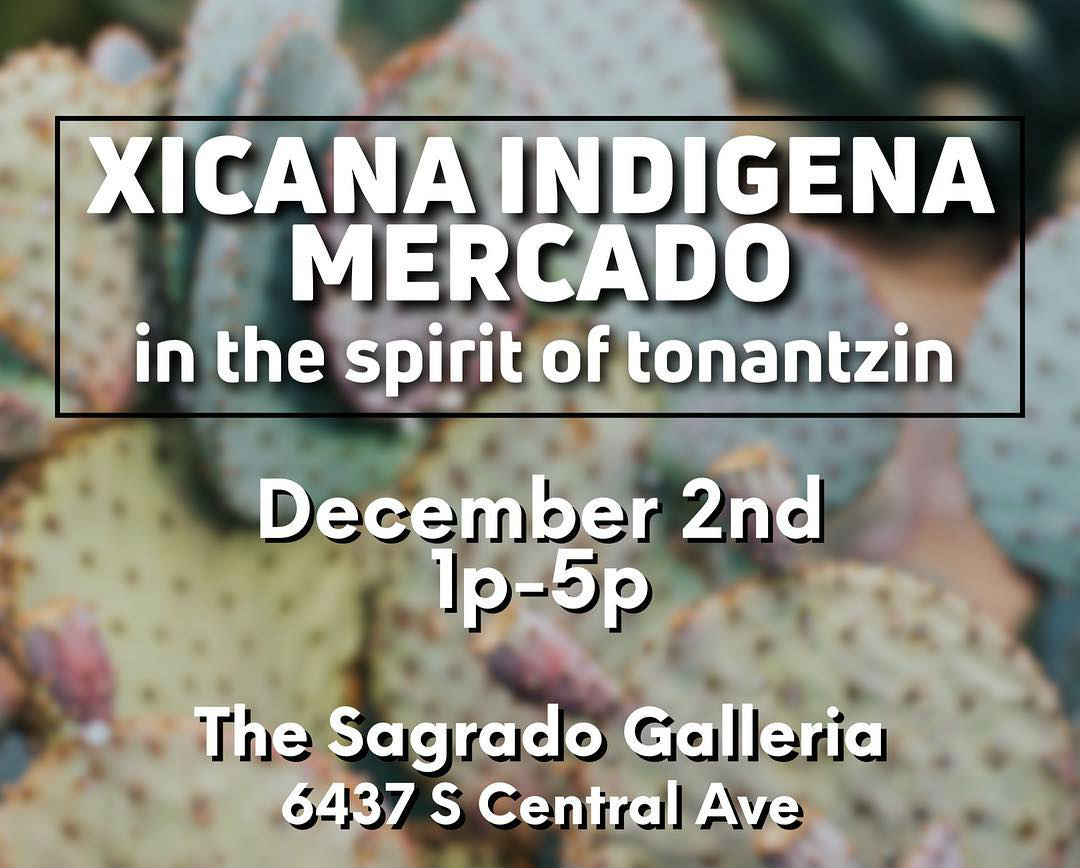 DIECISIOCHO! Phoestivus
This is another open door market with about 130 vendors all of whom are Phoenikerxs. Aside from being able to get great gifts made by local artisans, you'll also be able to get your grub on with great food by local spots.
WHEN: Saturday's December 14 and 21, 5 p.m. – 10 p.m.
WHERE: 721 N. Central Avenue, Phoenix
DIECISINUEVE! World Bazaar Phoenix Community Market
This is a chance to get unique gifts made by people from all over the world and eat delicious food from different countries. Members of La Phoenikera's Latinx and refugee communities make up the majority of the vendors for this multicultural market.
WHEN: Saturday, December 2, 10 a.m. – 2 p.m.
WHERE: Lightrail Station on 19th Avenue and Camelback Road, Phoenix
VEINTE! Phoenix Festival of the Arts
Take this opportunity to check out potential gifts from 150 art vendors. This is a great place to find something for your artsy friends or that family member who needs something to spiff up their house. Plus, there will be food, there will be beer, there will be wine. Drunk shopping!
WHEN: December 8 – 10 (Friday, 12 p.m. – 5 p.m., Saturday and Sunday, 10 a.m. – 5 p.m.)
WHERE: Margaret T. Hance Park, 1242 N. Central Avenue, Phoenix