Mother Cruda Knows Best
Whoever has a vision of their future and wants to materialize it, doesn't have it easy. If you start your own bidness, often times you'll want to throw in the towel, you'll have to make concessions, reevaluate your views, pull through thick and thin, wean off your spare time (at least for a while), and completely forget about vacay.
That's precisely what Verónica Manriquez and Marco Carrillo have been doing since April 4, 2014, when they launched La Cruda from a Title Loan parking lot on 32nd St. and Thomas, with just a table, a canopy and a few things they borrowed from friends and family.
Both are fervent devotees of the Clamatonería cult, and the genius of their recipes has provided an undeniable notoriety. They're pros at making Clamatos and their business is booming.
That first Saturday, they set everything up by 11:00 a.m. and were anxiously waiting for their first client. By 3:00 p.m. they hadn't had a single customer and the heat was starting to take a toll on them. But, after a while, people started flocking to La Cruda and soon enough all their Clamatos were gone.
All was good for a few months until the owner of the Title Loan branch where they set up shop kicked them out. They looked for another site and finally settled at the Melrose District by 7th Ave. and Indian School, but they got kicked out from there too.
They were exhausted from moving around and having to alert customers that they were changing locations once again. Verónica was about to give up when Marco said "heck no" and figure out a way to stay afloat by doing deliveries all over the Valley.
They continued to operate La Cruda from their truck, always with their sight focused on getting their own space. "We were like the paleteros, I would drive the truck and Verónica would be in the back making Clamatos," recalls Marco.
They hustled until September 2015 when they got their current location. They opened with a few tables and chairs, but a lot of sacrifices, dedication, and ovarios/huevos.
Verónica and Marco went to school together at Instituto Teresa de Ávila, an elementary school in Juaritos, Chiwas. After graduating from that elementary school they lost contact until a few years ago when they reconnected via Facebook.
They agreed to meet in person and in that encounter they caught up about life and projects. Marco told Verónica he wanted to open a Clamato business because, since the first time he was hungover, he knew how to make them. "I don't mean to be conceited, but the truth is that no one makes them like I do," Marco acknowledges.
But he wasn't the only one with the idea. Serendipitously, Verónica had done market research because she wanted to bring a Clamato Franchise to La Phoenikera from Chihuahua.
Since the inauguration of their new place, La Cruda has become a cathedral for those who seek the universe's forgiveness for a night of binging, and a cure for the killer hangover they carry glued to their soul. But it is also for those who are spared of this illness and just want to bewilder their taste buds.
"We want La Cruda to be a place where family and friends have a chill time," says Verónica.
La Cruda doesn't sell alcohol, but you're more than welcome to bring your beers or whatever booze you want. As a matter of fact, if you take your cooler filled with brewsters, they can prepare them their own way.
First time I tried La Cruda I wasn't drunk or hungover, I was looking for a new thing to try and to watch a soccer match: the memorable and painful Mexico vs Chile match for the Copa America semi-finals.
After LMAO for a while at the names of the menu options, I chose La Mamá de las Crudas. There's also La Cruda Cachonda, La Cruda Pelona, La Cruda te Entra Seca y La Cruda Adentro, among other cheeky names.
Notoriously ingredient saturated eats make me iffy, especially if eating them turns into a laborious task (I have issues, I know, but I don't like having sticky hands). For a sec, I doubted ordering it because of the medley of ingredients that this motherly brew contains, but I am indulgent… go big o go home right?
The combination of flavors and textures exploded in my mouth like a Big Bang, I wasn't expecting a party in ma mouf, and like unexpected family visitors on Sundays, a shitload of flavors just arrived all of a sudden.
If you go to La Cruda you cannot pass the opportunity to try their shrimp consomé (shrimp broth), it's hella good, so good that Scottsdale chefs visit them to eat and take some to create dishes with it… that soup brings you back to life!
"Sometimes we see people looking yellow because they can't handle their hangover, but when they leave, they're ready to party again," says Marco.
The truth is that their Clamatos are like flower arrangements for drunkards (in my ideal world, these would be sent to that "special someone" at their work with a "hope you feel better" note).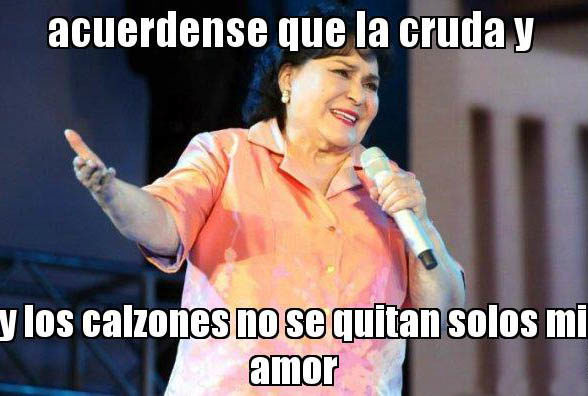 Their menu includes other concoctions that do not involve tomato juice, fruits of the sea or jerky. You have options like La Cruda Loca, a fruit filled soda with Chamoy and an ice pop or La Coqueta, which is Sprite, pineapple, tamarind candy, lime and an ice pop. They also have shrimp tacos, shrimp cocktails, tostadas and fruit plates, among other Mexican street food goodness.
When asked about the future of La Cruda, both envision a bigger place with a drive-thru and multiple locations in the Valley.
"We have big plans, we want to expand but all in due time," says Verónica.
Having your own business is a friggin' hustle, and for some reason, this is truer for the food industry in Arizona. La Cruda slows down from July to October and at times Marco has had to take part-time jobs to keep it afloat.
They've learned their lesson and this year they're prepared for the slow season by including more stuff in the menu like elotes, raspados, and more seasonal fruit and summery treats.
La Cruda is located on 2822 N. 32nd St Ste 3. Phoenix, AZ